Got back from a three week trip to Europe, where I drove EV 66% of the time.
First week, ordered a Polestar 2 with Europcar. Europcar provides a ShellRecharge card.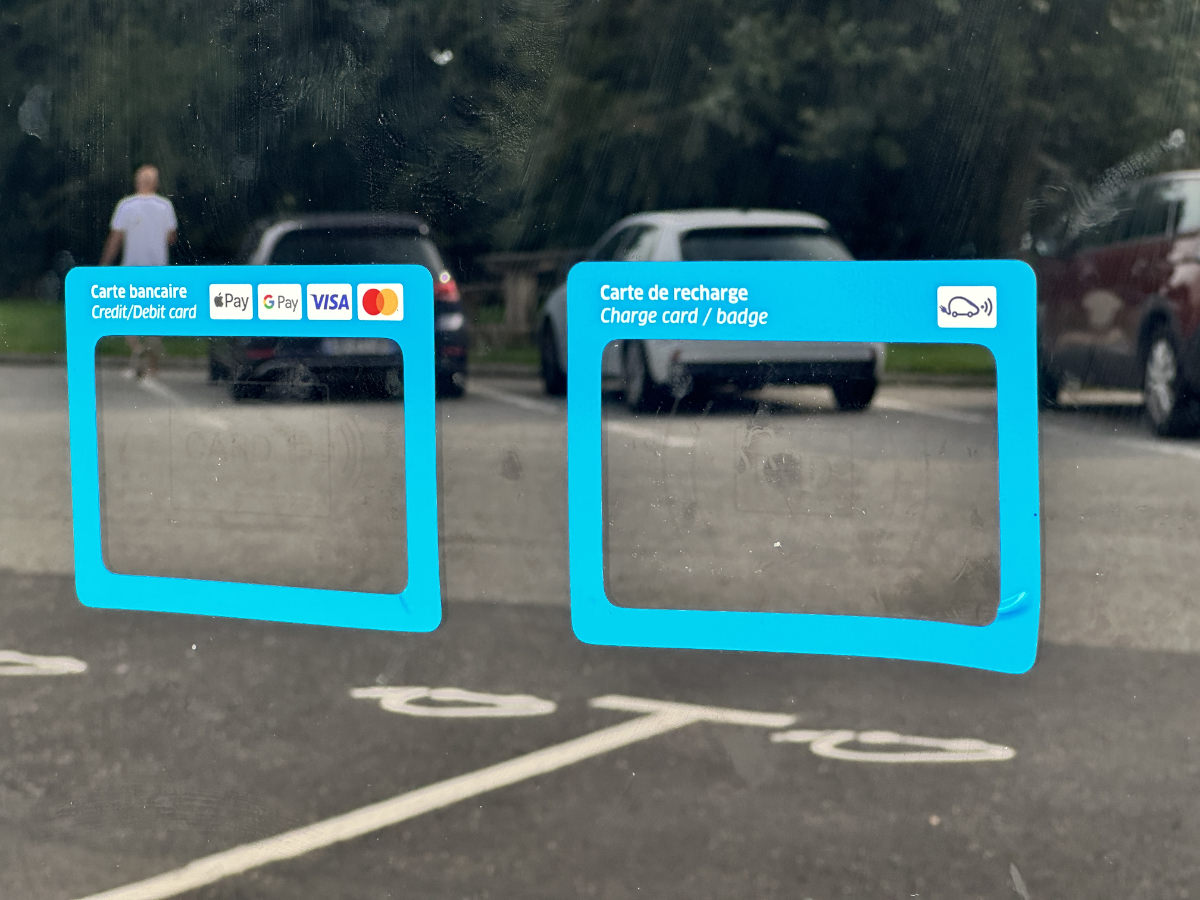 Upon creation of an account though, it turns out they only support CC payment in the UK. For the rest of Europe (and Belgium) they only support bank debits. That makes ShellRecharge useless for non-European travellers. Something they should rethink. Lots of DC rapid charging networks throughout Europe do support tap-to-pay credit card payments.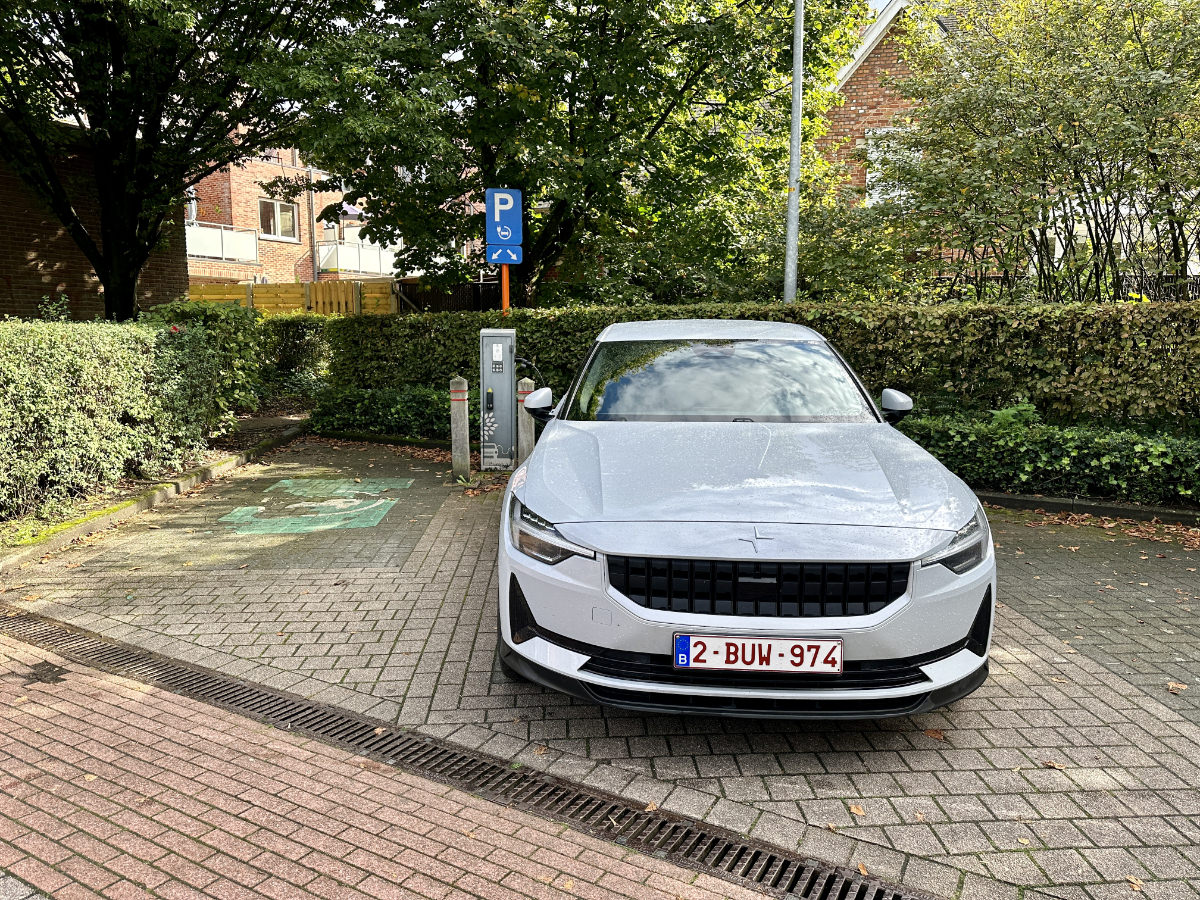 First week most charging happened around the corner of my family's place in a small Flemish country town, using a Smoov-Allego AC charger. Smoov does take CC payments through its app. But then that app was not available in the Aussie iOS AppStore though. Luckily I did already have a Belgian AppStore account. Using a second iPhone with that account, tethered to my main (Aussie account and SIM roaming) iPhone, I could use the Smoov app. Again, something to keep in mind. Even though this is a small country town, the single dual AC charging point was occupied a few times. I kept track on the Smoov app when one became available and plugged in later for an overnight charge.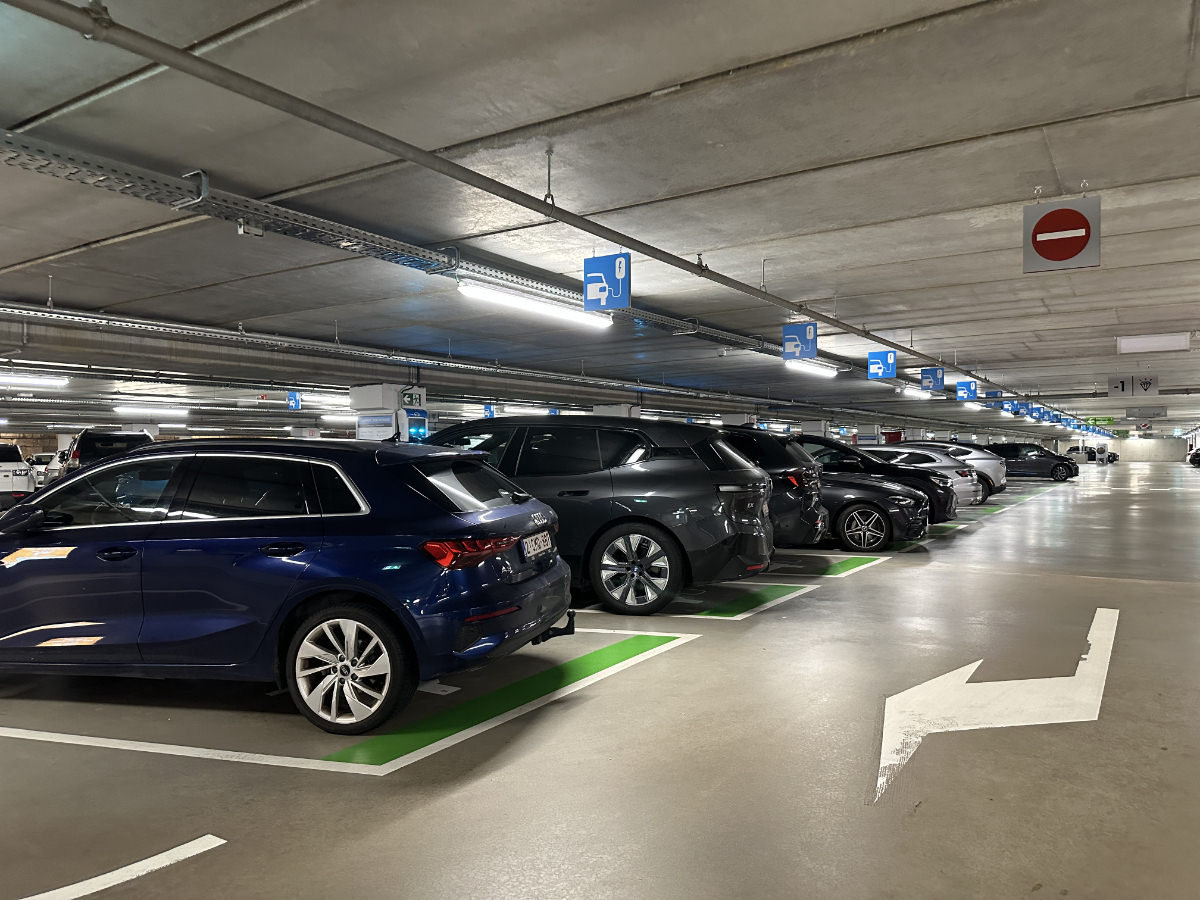 Belgium is packed with AC and DC fast chargers! Small towns, supermarket chains, underground parking lots, motorways,… you can find them anywhere. They are all different operators but they are all interoperable. You can create an account with one operator, get its RFID tag, and use that across Europe to tap and charge across all these networks. You do pay an extra "roaming" fee though. One underground parking garage in Antwerp had two rows of 30-40 AC chargers (60-80 total?), amaizing to see. No mobile reception underground though, so you do need an RFID tag in that case
I decided to buy a Plugsurfing tag for €10, which they claim allows access to 550K charging points across Europe. Some operators only allow access to a limited set of other operators. So choose wisely. This also allows for a single account and invoicing, giving you an easier, singular overview of your charging sessions and costs.
In that sense Australia is at least five years behind, in number of charging locations and convenience (accounts, payment).
But again, the Plugsurfing app is not available on the Aussie AppStore. But you can make an account online, if you can provide a European address. Similar to the ShellRecharge and Smoov accounts experience. Why this limit? 
Driving the Polestar was fine, with a 330km range, for the shorter trips I was doing. Not a fan of FWD which often was obvious, so good thing they switched to RWD now. The long range AWD I test-drove earlier was a better drive. The Google Auto software was fine, and (wired) Apple CarPlay worked well.
The second week we went to the Greek island Crete, where I opted for an ICE car. I had ordered a Volvo XC60 with Avis, but got a Merc GLB 200, which I don't feel is anywhere close in the same range as a Volvo. I did get full insurance, because of Greek drivers and the often narrow country roads. They also use the shoulder as an extra lane you're supposed to move to so other drivers, far exceeding the local speed limit, can overtake you. That includes the police themselves one time, without indicating, crossing a double line. You learn, and do as the locals do. 
The GLB did come with chunky tires, which came in handy on some of the rough roads. Although there were, surprisingly, less potholes than on the NSW Central Coast. Have to mention Merc's wired Apple CarPlay integration sucked. Only worked 50% of the time, and it didn't come with an alternative integrated GPS solution. Quite frustrating. I ended up spending €160 on about 80L of petrol over 1050km in the GLB, roughly €15.5 per 100km.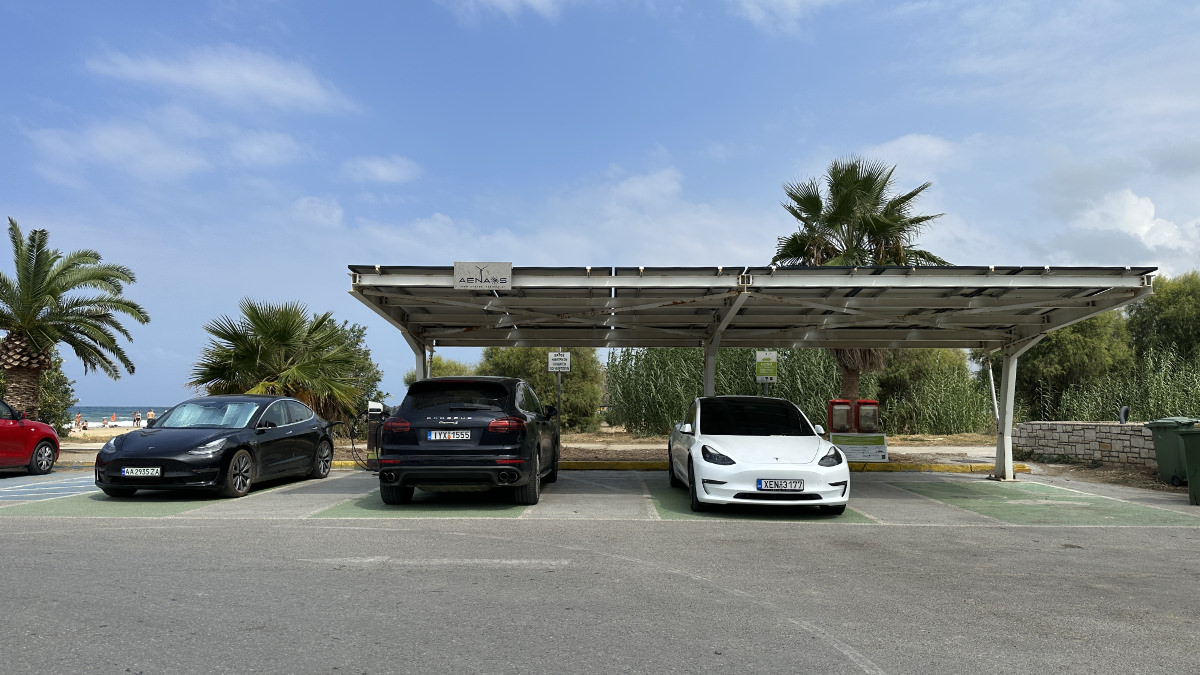 Did see some EVs in the bigger cities, with a few charging locations. Saw an ID.Buzz in Rethymno and Honda e on Santorini. Only saw a few PV solar panels (more solar hot water) and a few wind turbines on the south side of Crete.
Third week, back in Belgium, had again ordered a Polestar 2, but got a 1 month old Cupra Born instead. First have to note that the Born is only a 4 person car (4 seatbelts) while the Polestar is a 5 person car. Based on this alone, I wouldn't consider them equal (but only noticed it afterwards). Also slightly smaller booth.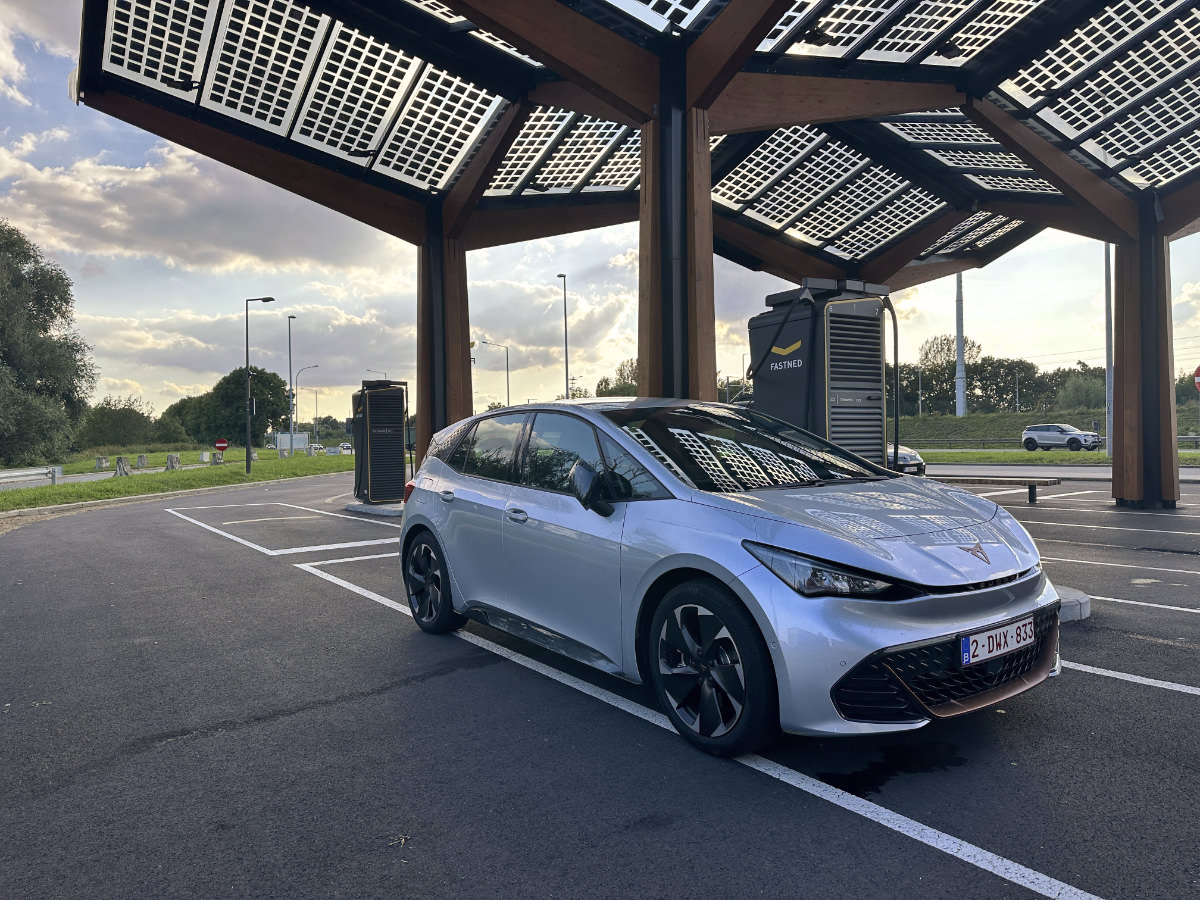 But the Cupra Born (170kW / 310Nm / 77kWh) was a lot more fun to drive than the Polestar! And comes with up to 500+km of (non-highway) range. And all the fancy cruise control features that the base Polestar 2 was missing. All which came in handy as we set of onto a Normandy/Brittany road trip. 
As I was driving on the Brussels ring road with this new car, I was adjusting my side mirrors. I happen to hit a button or dial that folded the mirrors, while driving at highway speed, and had no clue how to reverse it. Had to exit on a nearby motorway resting space to google what I did wrong. Then there is the software. All in all it's not terrible, but not great either. Every time I wanted to check the charging status, it would want to start up wireless Apple CarPlay. While charging, the car should display the status somewhere, like it does on the Polestar on the cockpit display. And which you can read from the outside.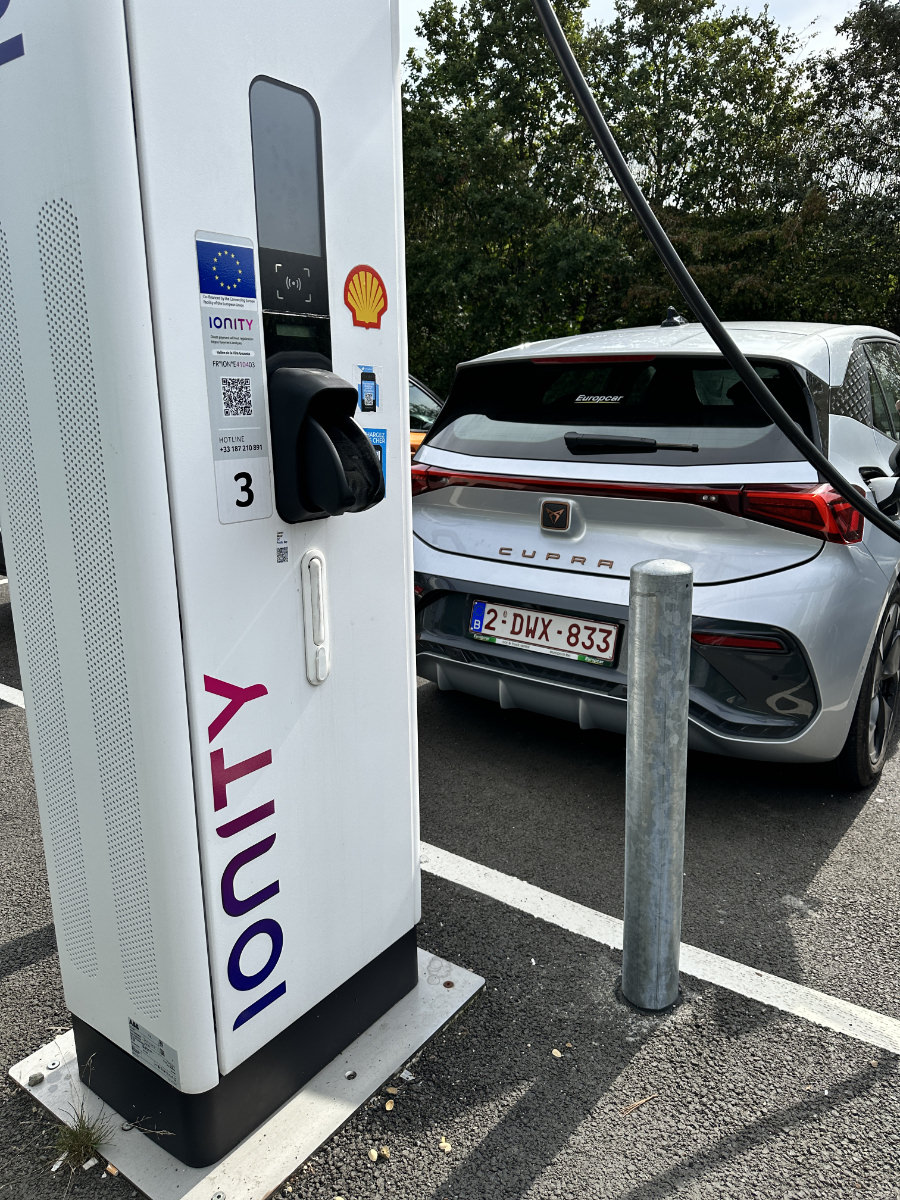 Cupra Born is build on the same platform as VW ID.3 and shares interior elements, but it does have better cup seats.
This time I had the Plugsurfing RFID tag which I used across the Fastned, Ionity, Engie, Threeforce and Ouest Charge charging networks in France. All slightly differ in use, having to tap first, or plugin first then tap. You need to read the instructions on each charge point. But in the end it all worked pretty well I thought. Although it was the weekend, we only hit one rural, single, occupied dual AC charging point where I couldn't plug in immediatly.
Some AC chargers have a press-and-slide mechanism; the first time I saw this, I had no idea what was happening. It's more like a press, slide then push motion. But why?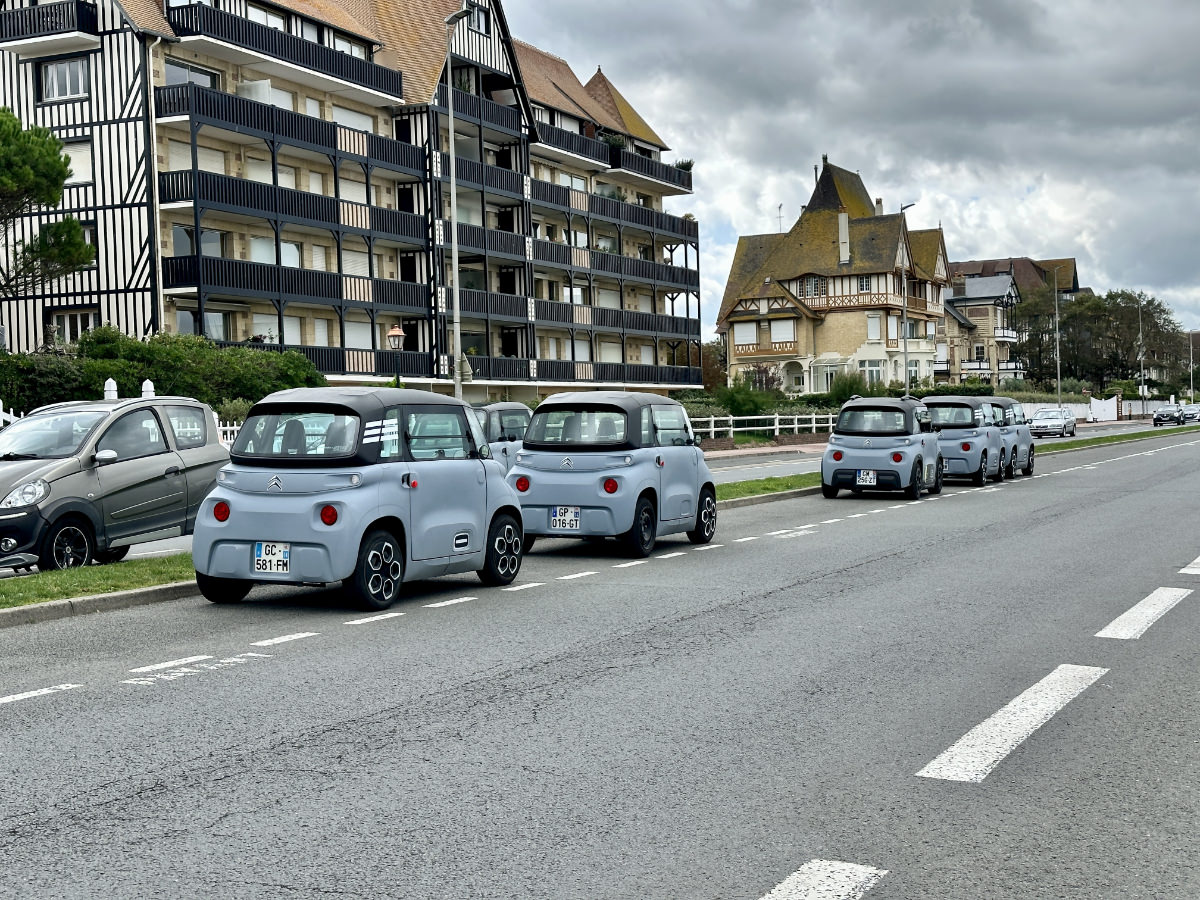 The only time we had an issue was in Deauville with the Izivia network there. Some of their DC charging points where offline. One was showing a communication error (which I assume applied to the others too). But we did find an AC one where we plugged while having a stroll through Deauville. 
Deauville was also home to a €29/day Citroen Ami rental service, with a collection of Amis parked on the street.
On this road trip I charged 226 kWh across just shy of 4 hours at €142. That's about 65 Euro cents per kWh. Highway DC charging was 27 minutes on average (one charge only 19 minutes). Enough for a pitstop and a quick bite, stretching the legs. I hit 178kW charging at one point (on 350kW Fastned), though the Cupra Born is only supposed to do 170kW max? I did about 15.5kWh/100km, about €10 per 100km, which matches with 6 l/100km of petrol.
Spend €107 for 231 kWh on the rural AC charging, at 46 Euro cents per kWh, €7.13 per 100km, which matches with 4.2 l/100km of petrol. Sure had more fun driving the Cupra than the GLB, at half the petrol price, but the same Aussie drive away price point.
Back home, even as the Cupra Born was fun to drive, my 2021 Tesla Model 3 SR+ is still a superior EV drive and has a better (simplified and unobtrusive) software experience. Though both the Polestar 2 and Cupra Born are better build, more comfortable and have better seats (IMHO).